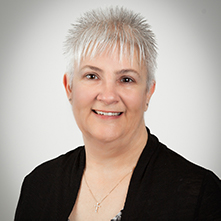 Lorre Hunter, MSW, LCSW, CADC, Certified EMDR Therapist
NOT ACCEPTING NEW PATIENTS
I utilize a person-centered approach, offering a non-judgemental and safe environment for clients to grow and make the changes they desire. I believe in giving unconditional positive regard, empathy and genuineness to all clients who enter my office.
Anxiety
Attachment Disorders
Couples Therapy
Depression/Mood Disorders (Bi-Polar)
Dissociative Disorders
Individual Therapy
Personality Disorders
Substance Use Disorders/Co-Occurring Disorders
Trauma/PTSD
I am a Certified Eye Movement Desensitization and Reprocessing (EMDR) Therapist. EMDR is an evidence-based practice which helps clients with trauma, PTSD, anxiety, depression, addiction, chronic pain and more. EMDR helps a person create positive change in their life and the client is in control of how quickly the change occurs. I also utilize Cognitive Behavioral Therapy, Dialectical Behavioral Therapy, and Ego State Therapy.
Licensed Clinical Social Worker: Illinois
Certified Alcohol and Drug Counselor
Certified EMDR Therapist
Certified Clinical Trauma Professional
Master of Social Work: Aurora University
B.A. Psychology: Northern Illinois University
Linden Oaks Outpatient: Clinical Therapist, Facilitator of MAT Group
Passion for Living Counseling Services, LLC: Clinical Therapist
Braden Counseling Services: Clinical Therapist, Group Facilitator
Hope Haven Homeless Shelter: Case Manager/Therapist
Learning is my second passion, after helping others. I am always looking for new innovate techniques to help myself grow as a person and as a therapist.
Advanced EMDR and Attachments
Advanced EMDR and Structural Dissociation
DBT Two-Day Seminar
Four-Day Training on EMDR